If you have multiple domains or websites with Easy Domains, in this guide we will show you how to switch between them so you can manage each one individually.
Before you begin
First, please log in to your Easy Sites account by inputting your username and password on the Easy Sites home page. If you have misplaced your log in details, simply follow our forgotten password tutorial.
Step 1
After you've successfully logged in, you should be presented with the following screen which shows a list of the domains/websites you hold with Easy Domains; please select the one you'd like to edit. In this case, I will be editing www.examplecompany.uk.

Step 2
To switch sites, please hover your cursor over the Menu button; you will see a drop down which includes the Change Site option.
Step 3
By selecting on the Change Site option, you will be returned to the list of your domains, from which you can choose which site you wish to edit next. This time, I will be editing www.examplecompany.co.uk.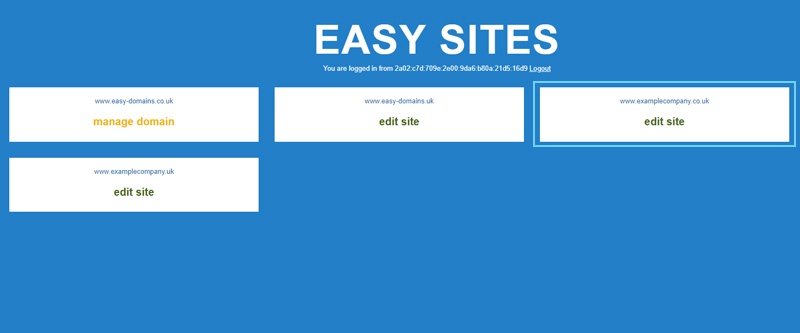 Step 4
As you can see via "Currently Editing" field, we have successfully switched from examplecompany.uk to examplecompany.co.uk.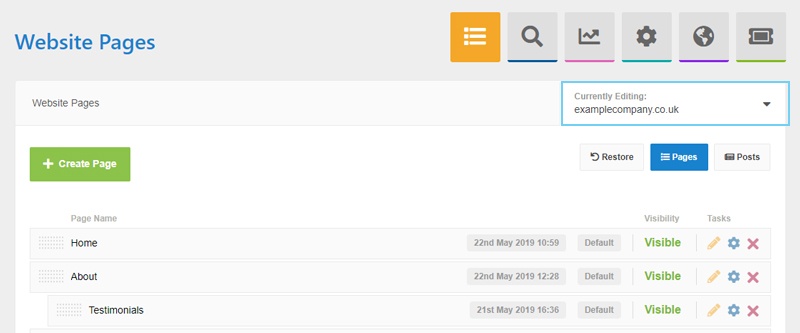 Video Tutorial
Need help?
If you have any problems following this guide or changing your password, please contact our team here.