In this guide we will walk you through how to change the nameservers of your domain.
What is a nameserver?
A nameserver is essentially a server that contains DNS information for a number of domain names. If your domain name has multiple nameservers, the DNS information is retrieved from one of the nameservers at random and the others act as redundant nameservers in case any issues occur.
All domain names managed with Easy Domains are hosted on our default nameservers, except those where other provisions may have been made. You would typically look to change nameservers if you are changing/migrating all your services to another hosting provider.
Step 1
Start by signing in to your Easy Sites account. If you have need help retrieving your log in details, please contact us or follow this tutorial if you have Forgotten your Password.
Step 2
Choose the domain/website you'd like to change nameservers for and you will be presented with the Pages menu.
Step 3
From the main navigation bar, select the purple globe icon to go to the Domain Management section.

Step 4
From the Domain Management menu, you can change several aspects of your domains. For the purposes of this guide, we will focus on the nameservers section of your domain. You can "Nameservers" from either in the main dashboard or via the Quick Manage menu on the left.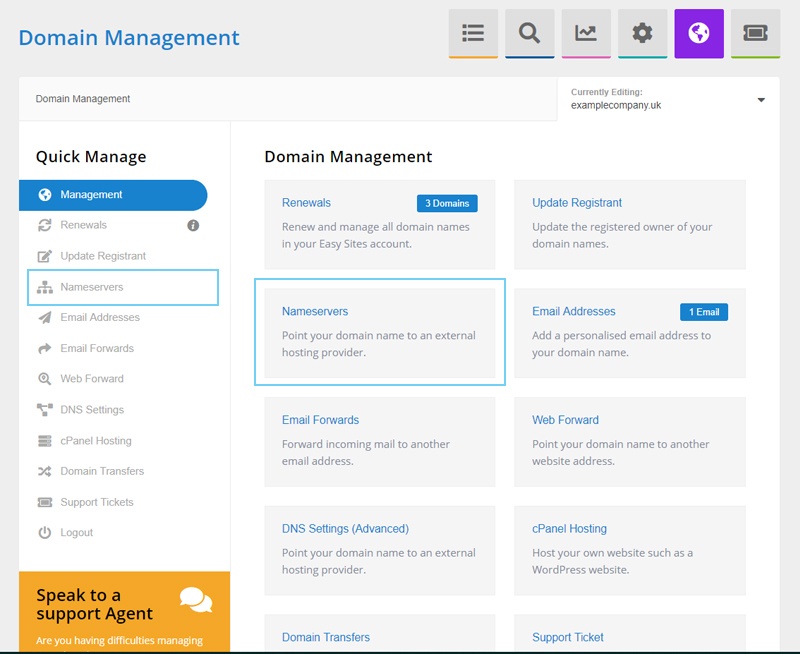 Step 5
You can change your nameservers by entering then in the fields provided.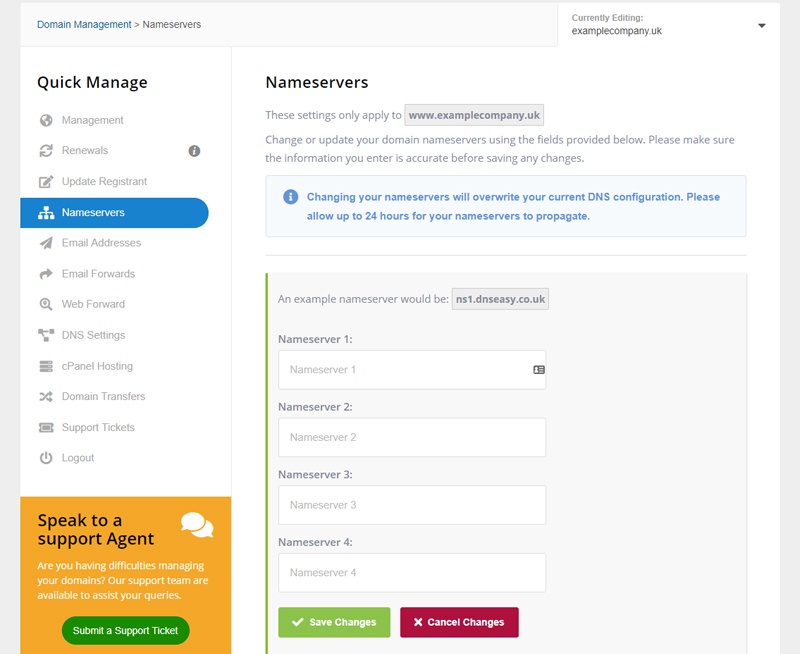 Step 6
Simply click "Save Changes" to immediately change your nameservers.
Please note: Any changes you make will be applied immediately upon clicking Save Changes at the bottom. All services from the previous nameservers will stop working immediately.
Video Tutorial
Need help?
If you have any problems following this guide or modifying your DNS settings, please contact our team here.