In this guide, we will explain how you can add Google Analytics to your Easy Domains website to monitor your website statistics and performance.
What is Google Analytics?
Google Analytics is a free web analytics service offered by Google; by adding a tracking code to your website, you can see in-depth statistics of each web page, including the amount of traffic, visitor locations, page interactions and more. This data can then be used to improve the performance of the website by continuously tweaking the design and content of pages which are not performing as well as expected.
Step 1
To start, you will need to sign up to Google Analytics by creating an account here.
After creating the account, you will be presented with your unique tracking ID which is applicable to a specific website. Please keep this page open for reference, or copy the ID to separate document as we will need it later.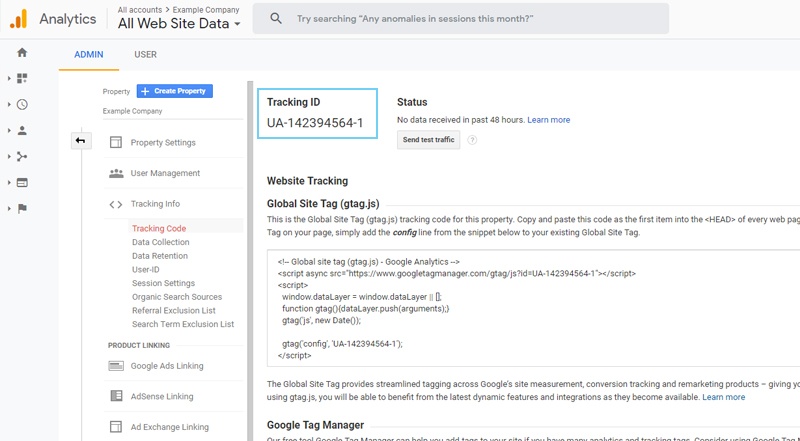 Step 2
When you have your tracking ID in a safe place, please navigate to your Easy Sites control panel by signing in to your Easy Sites account on our homepage; if you have misplaced or forgotten your log in information, simply follow our forgotten password tutorial or you can opt to raise a support ticket. After signing in, please select the website that you'd like to place the tracking code on.

Step 3
From the Pages menu, please navigate to Website Settings by clicking on the teal cog icon towards the top right of the screen. By default, it will display your Company Details; please select Analytic Settings from the Quick Manage menu on the left.
Step 4
Please paste your tracking ID in the field titled Google Analytics; please don't forget to press Save Changes at the bottom of the screen to avoid losing your changes. You will start to see data populate your Google Analytics dashboard as traffic builds.
And you're done!
Need help?
If you'd like more information regarding Google Analytics, please visit the official tutorials and articles here: https://support.google.com/analytics?hl=en-GB&authuser=0#topic=3544906
If You'd like any assistant in this process please feel free to Contact Us